Loading....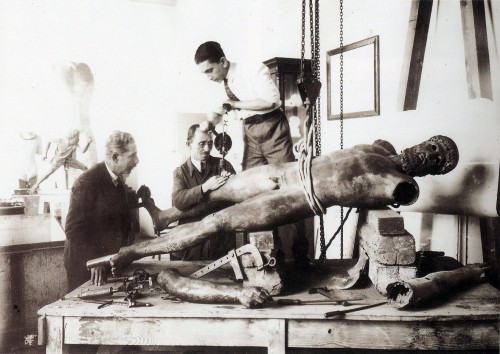 From the beginning of its operation, the National Archaeological Museum has been a nursery for development and application of new techniques and methods of conservation of antiquities.
At the end of the 19th century, the best sculptors of the time (I. Vitsaris, K. Marmarinos, P. Kaloudis) were engaged in setting up and installing the first exhibition of the Museum.
At the beginning of the 20th century, the Museum employs the chemist Othon A. Rhousopoulos for the conservation of the bronze finds of the Antikythera shipwreck and the Mycenaean and Egyptian Collections. The same chemist also offered archaeometry services in the chemical laboratory of his private Commerce and Industry Academy.
In the 1920s, the National Archaeological Museum commissioned the professor of Chemistry of the University of Athens, Konstantinos Zeggelis, to conserve the bronze sculptures of "The Marathon Boy" and "Zeus or Poseidon of Artemision".
After the war, the first permanent chemist, Vassilios Zisis, was employed by the Museum. Zisis was succeeded by other chemists during the years (K. Asimenos, E. Andreopoulou-Magou, G. Kouros).
In 1980, with funding from the Volkswagen foundation, the chemistry laboratory was equipped with cutting-edge analytical instruments and since then, it operates as a physicochemical research and archaeometry laboratory. The laboratory collaborates with other research and scientific institutions in Greece and abroad.
Throughout the 20th century, skilled craftsmen, artisans and artists served the Museum, by treating its antiquities. Among them, those that stood out were A. Panagiotakis, St. Klaudianos, Tr. Kontogiorgis. I. Bakoulis, A. Mavraganis, Chr. Hatziliou, St. Triantis, P. Sarafianos, A. Kontopoulos, et. al.
In 1965, with a Royal decree, the conservation laboratories of the National Archaeological Museum were officially established as "Conservation and Restoration Center", which also undertook the conservation and restoration of archaeological objects from the museums of Delphi, Olympia, Vergina, etc.
Even today, due to the high level of expertise of the staff of the Conservation Department, many regional ephorates and museums of the Ministry of Culture send their antiquities to the National Archaeological Museum for conservation, support / mounting, or scientific examination.
In the period from 1969 to 1971 a Conservation School was also established at the National Archaeological Museum.
In the 1990s, the first graduate Conservators of Antiquities and Works of Art from the Technological Educational Institute of Athens (now the University of West Attica) were employed by the Museum. Since then, the Museum employs graduate conservators from Greek and foreign universities.
In 2008, the Conservation Department and the Department of Physical – Chemical Research & Archaeometry were established, while in 2014, the two departments merged into one under the name of "Department of Conservation, Physical – Chemical Research & Archaeometry".