Sculpture Conservation Laboratory
---
Loading....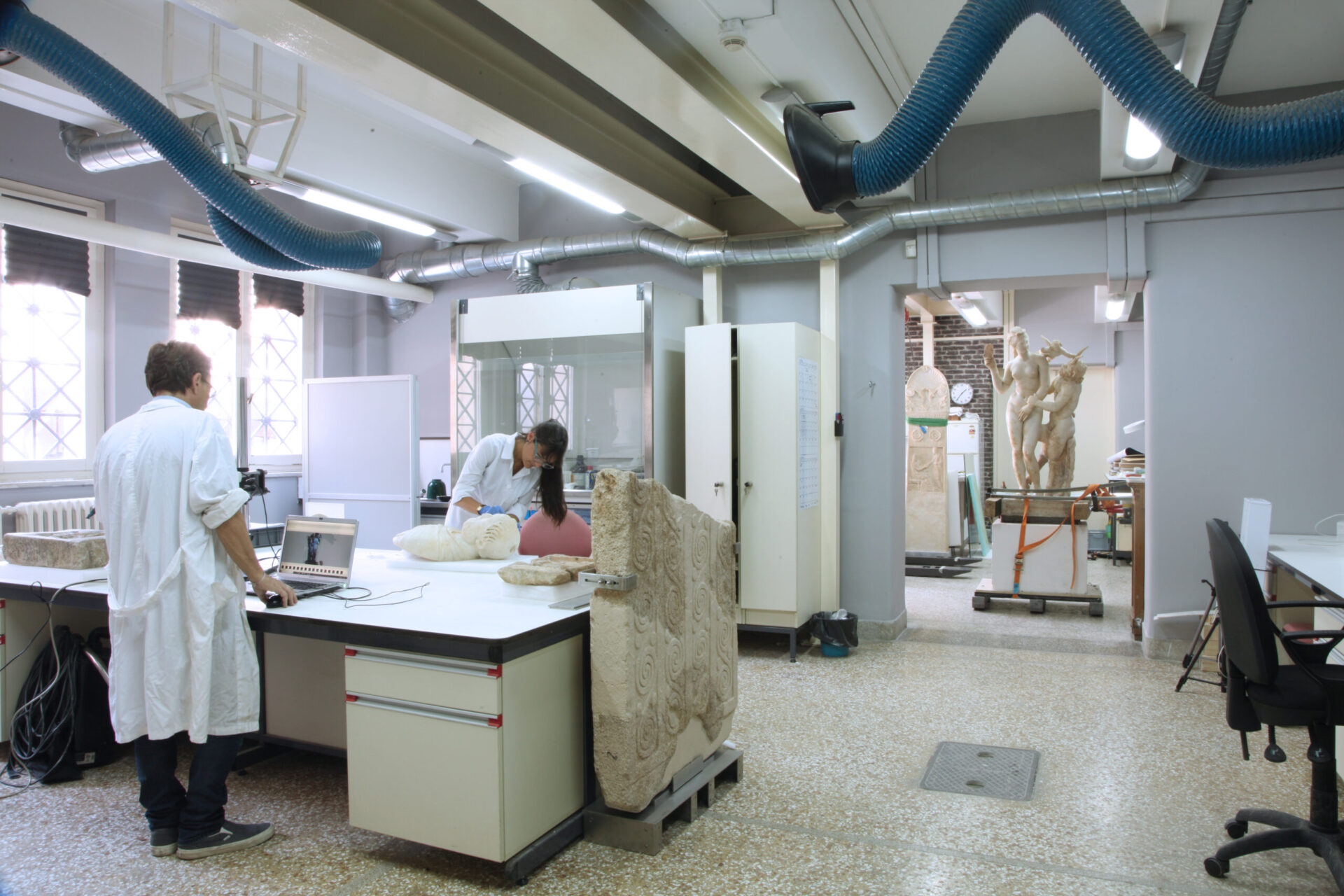 The Sculpture Conservation Laboratory is located on the ground floor of the new building on Mpoumpoulinas Street and opens onto a small interior atrium.
The following work is carried out in the laboratory: all imported sculptures are first subjected to a diagnostic protocol, which includes macroscopic and microscopic examination in the visible, UV, VIL, RTI and, where appropriate, radiography with γ or x-rays or GPR for imaging. The examination is documented by photography which is entered in the report of each sculpture. Then, based on the diagnosis, cleaning, adhering, filling, aesthetic presentation and construction of a customized base are carried out for the safe support and presentation of each artefact.
Duties of the laboratory also include: moving of sculptures with lifting equipment, writing reports on the suitability of the antiquities to travel to Greece or abroad, development of standards in the packing of sculptures in order to travel to exhibitions to Greece or abroad. As part of periodic exhibitions, the conservators fill in conservation reports, supervise the packing, escort the antiquities and install them and vice versa for their return to the NAM.
In addition to current work, the lab is involved in two research projects in collaboration with the J. P. Getty Museum. This is the Ancient Sculptures Seismic Protection Project which provides for the construction and installation of seismic isolators on iconic museum sculptures of the NAM http://news.getty.edu/getty-museum-collaborates-on-seismic-mitigation-research-project-with-hellenic-ministry-culture-and-sports-and-national-technical-university-athens.htm and the APPEAR project focused on the study with physicochemical analysis and imaging techniques of the colourful Fayum Egyptian funerary portraits.
Moreover, in the context of the NAM's communication activity OPEN MUSEUM, the staff of the lab has carried out two presentations with the titles: "Colourful and gilded: the world of statues differently" and "Restoring the beauty: conservation work on the statue of an unknown Aphrodite".
The Sculpture Conservation Laboratory employs two conservators of antiquities and works of art, Ioannis Panagakos and Kalliopi (Peppy) Tsakri.