Organic Materials, Paper and Photo Negatives Conservation Laboratory
---
Loading....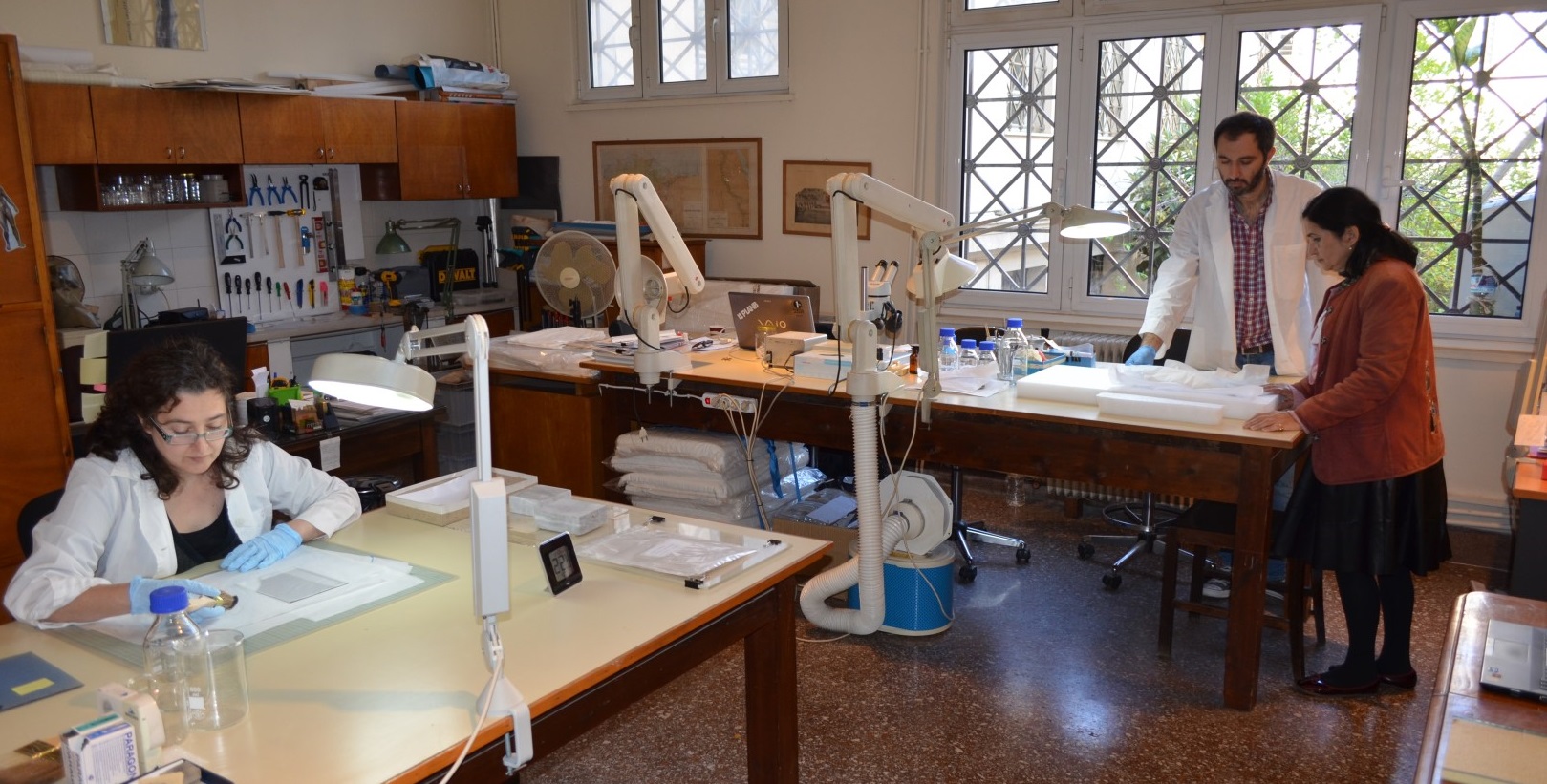 The Organic Materials, Paper and Photo Negatives Conservation Laboratory is one of the five conservation laboratories of the National Archaeological Museum. It is responsible for the conservation – preventive and active – of objects which are made of any organic material. The origin of organic materials can be from animals or plants and the range is very large. Leather, bone, ivory, wood, papyrus and fabric are the main ones.
Preventive conservation of organic materials, i.e. control of the environment (relative humidity, temperature, light, etc.) and proper storage of collections is a main duty of the laboratory as organic materials are particularly vulnerable to abrupt changes to their environment.
Active conservation of organic objects includes cleaning, stabilization, filling gaps and retouching with the least possible intervention on the objects.
The laboratory participates in the installation and de-installation of periodic exhibitions, in the escort of antiquities to periodic exhibitions in Greece and abroad, in research programs, in the service of researches, etc. The staff of the laboratory also participates with presentations and papers in conferences and scientific periodicals.
The laboratory is in direct collaboration with the other conservation laboratories of the Museum and with the Egyptian Collection, due to the nature of its objects (wooden burial figurines, sarcophagi, etc.)
The staff of the laboratory in 2016 participated actively in a research project of the National Archaeological Museum (Egyptian Collection) in collaboration with the Athens Medical Group and the Hellenic Institute of Egyptology that included the three-dimensional imaging examination (computed tomography scan) of five mummies from the Egyptian Collection of the Museum. This research was done for the first time in Greece and the results were published in a scientific one-day conference "Death in Egypt. From Pharaohs to Ptolemeans", which was held in the National Archaeological Museum in 29 October 2019 and also in scientific magazines https://www.namuseum.gr/new/enimerotiki-imerida-thanatos-stin-aigypto-apo-toys-farao-stoys-ptolemaioys/
Other projects include the 3D scanning of antiquities, the upgrade of storerooms and the safe storage of collections, etc.
In 2021-2022, the laboratory participates in another big project of the National Archaeological Museum, the 'Preventive Conservation and Documentation of Photo Archive' of the Museum, which is part of an EU program.
Equipped with the necessary equipment and materials for the conservation of organic objects, but also for the safety of the staff, the laboratory employs one conservator of antiquities and works of art, Panagiotis Lazaris.