Exhibit of the month
View all past exhibits of the month
---
DECEMBER 2018
Naughty Erotes
Loading....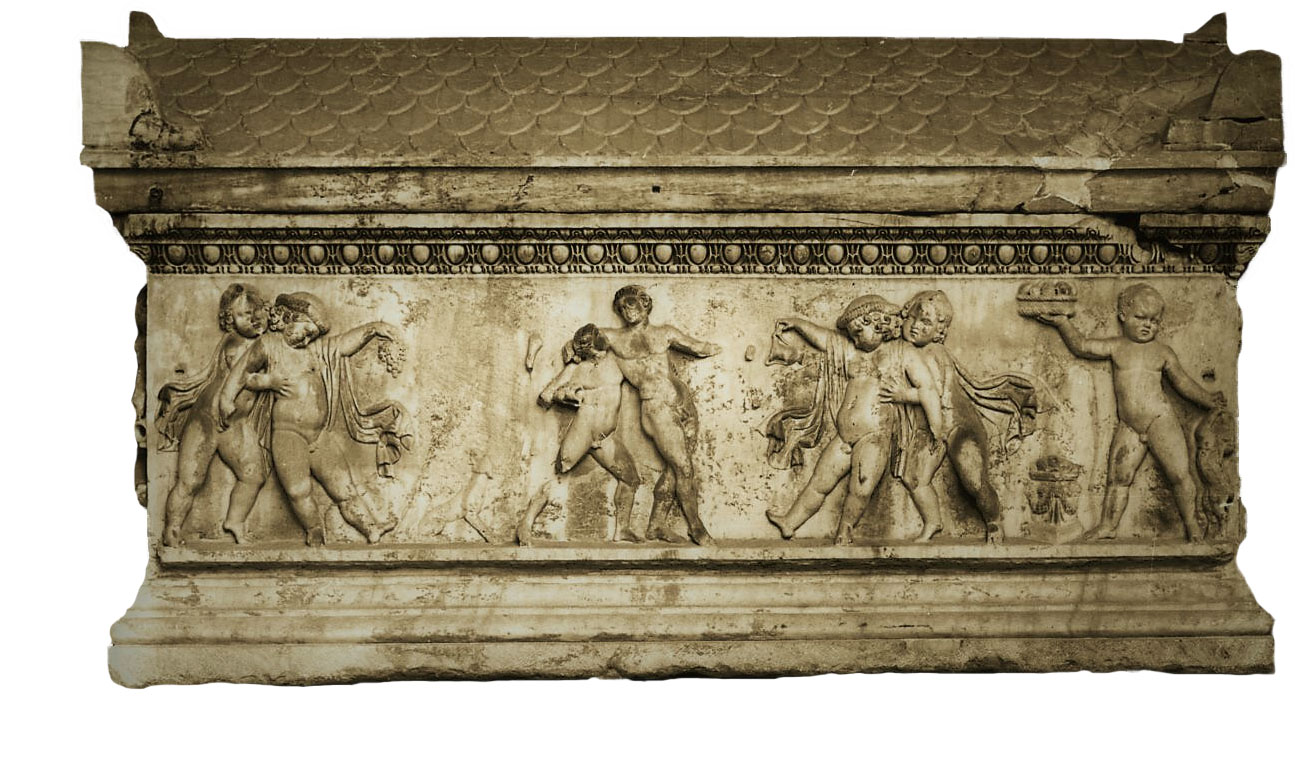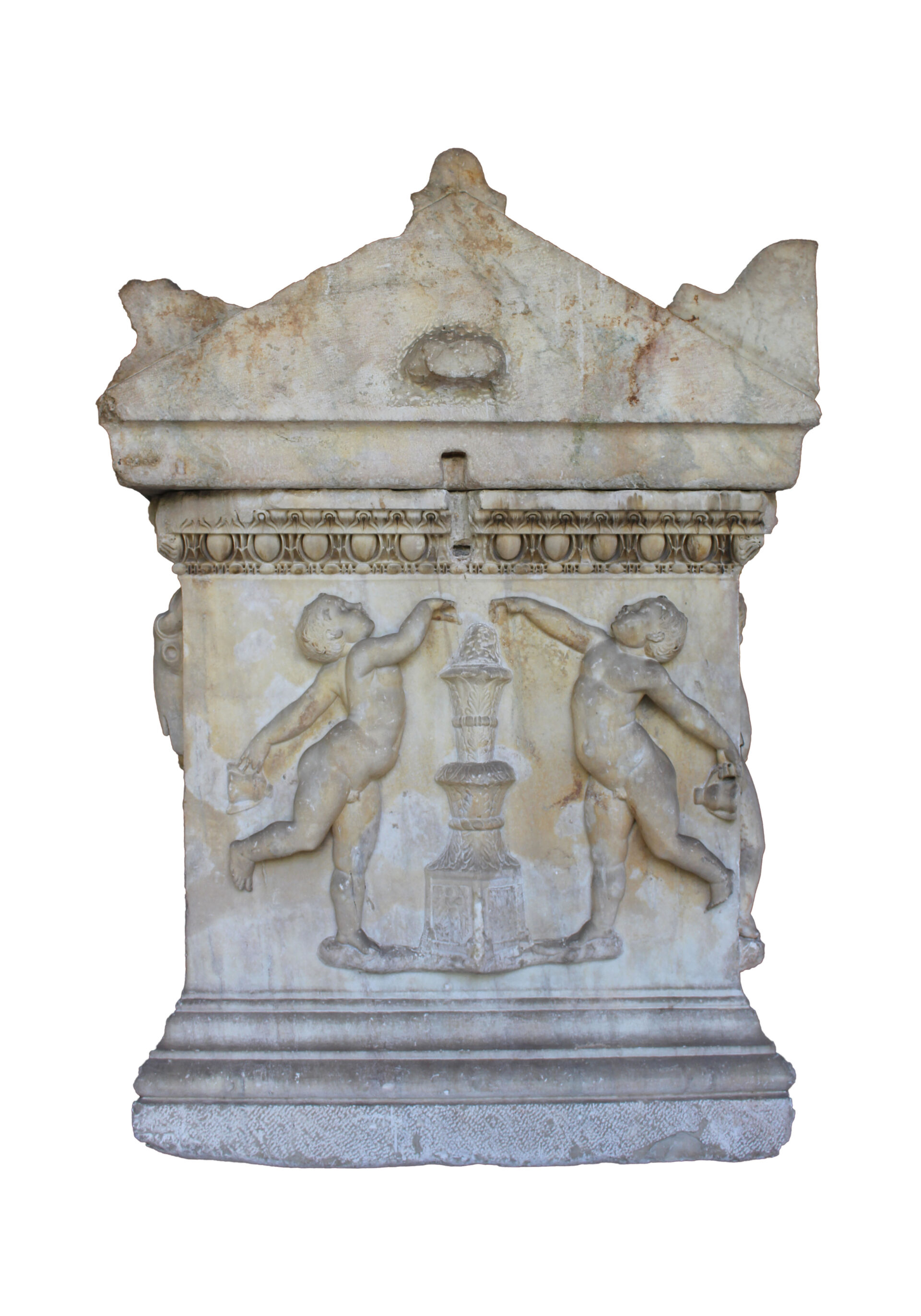 Sarcophagus with Erotes and a Dionysiac scene.
National Archaeological Museum
Sculpture Collection, inv. no. 4008.
Provenance: Vyronas, a suburb of Athens, in 1951
Measurements: Height 1,52 m., length 2,64 m., width 1,08 m.
Date: 150-160 A.D.
Place of display: Atrium.
The Attic sarcophagus survives intact with its lid in the form of a pitch roof and a chest adorned in all four sides with relief scenes. In the middle of the front side, a drunken Dionysus is portrayed, supported by a Satyr. The central group is framed by two antithetical pairs of Erotes turned ¾ to it. In the pairs of these wreathed Erotes, the supported one leans backwards to his companion and extends his arm holding a bunch of grapes and a kantharos cup, respectively. Further to the right a single Eros appears bringing offerings (a woven basket with fruits and a small animal) to an altar. All Erotes are represented as chubby infants, with plump legs and a toned underbelly. The back of the sarcophagus features two swags of a garland, each suspended between bucrania, and an Eros in a dancing "flying" pose in the middle. On the left-hand side two dancing Erotes are depicted, antithetically on either side of a candelabrum (lamp stand), throwing incense to the fire on top of it. The right-hand side is adorned with a crouching Sphinx.
Sarcophagi with scenes of Erotes form the second largest group of sarcophagi in the National Archaeological Museum. In their majority they depict komoi, processions of Erotes, and mainly young and wingless ones who – under the influence of wine – stagger drunkenly home from a symposium, supporting one another, dancing in ecstasic poses and holding drinking cups and musical instruments in their hands. This particular scene presents Erotes figures from different thematic circles, like the komos and the sacrifice, combined with figures from the iconographic circle of Dionysus. Since Erotes are depicted in their Dionysiac substance, their co-existence with the Dionysiac circle in a composition that reflects the joy of life along with luxury and love, is absolutely justified. The choice of the theme of the merry band of revellers in the decoration of the sarcophagus conveys, after all, the hope for a happy life after death.
Dr Chrysanthi Tsouli
Selective Bibliography
Gallet de Santerre, Η., Chroniques des fouilles et decouvertes archéologiques en Grèce en 1951, BCH 76, 1952, 216.
Matz F., Die dionysischen Sarkophage, ASR IV, 1, 1968, 84 n. 5.
Koch G. – Sichtermann H., Romische Sarkophage, HDArch, 1982, 420, 432 no. 46, 439 no. 31, 459.
Papagianni E., Αττικές σαρκοφάγοι με παραστάσεις Ερωτιδέων σε κώμο: εικονογραφία και χρονολόγηση, Εγνατία 15, 2011, 234 n. 6, 236, 239, fig. 2.
Papagianni Ε., Attische Sarkophage mit Eroten und Girlanden, SarkSt 9, 2016, 139 no. 68, pls. 5.2-4, 45.4, 57.2.
Katakis St., Athens, National Archaeological Museum. I. Attic sarcophagi with garlands, Erotes and Dionysiac themes, CSIR Greece I.2, 2018, 111-113, no. 112, pl. 41.