Exhibit of the month
View all past exhibits of the month
---
JUNE 2022
Chasing the win
Loading....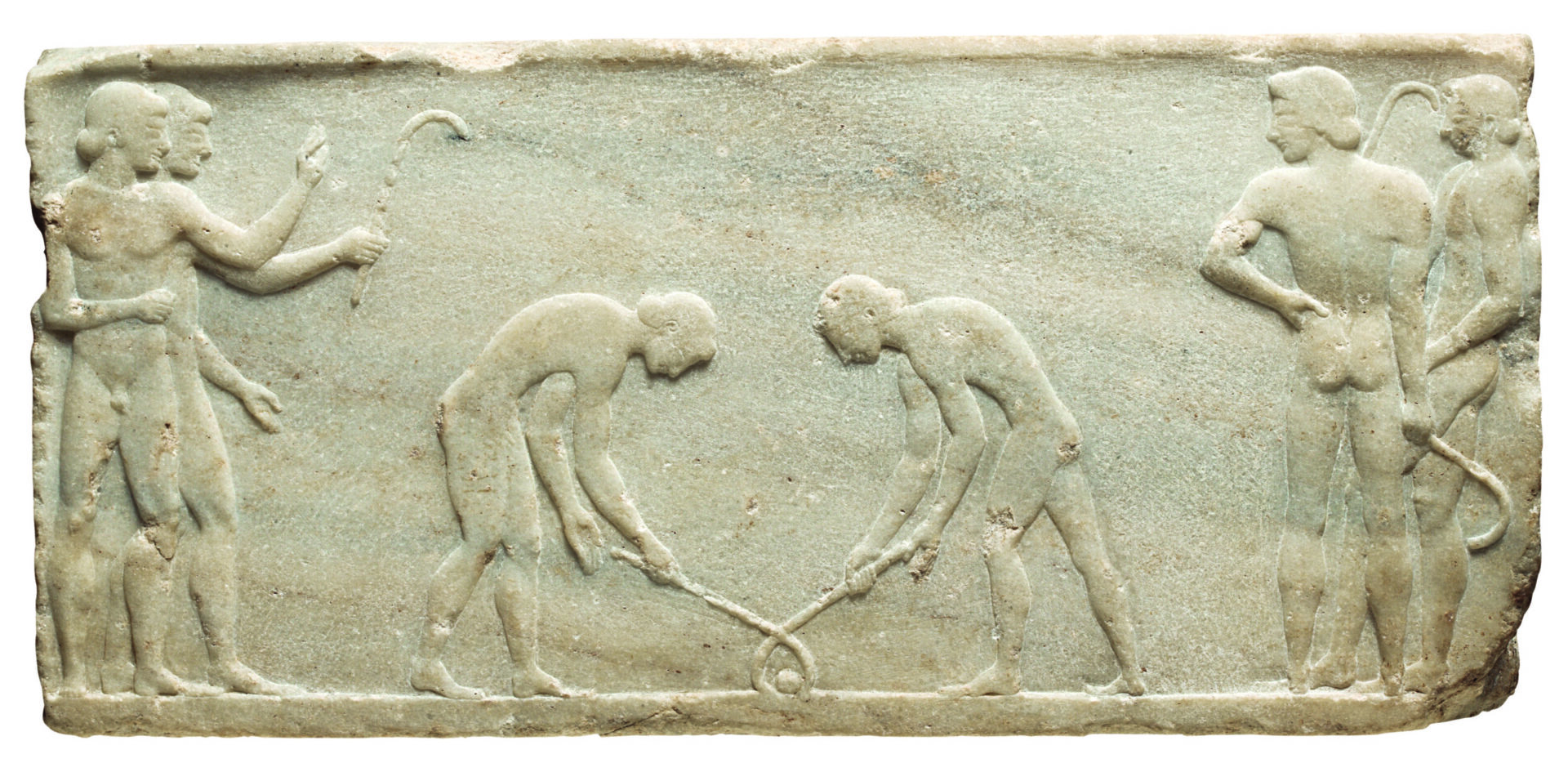 Depiction of the ancient game "keretizein" at the base of a funerary kouros statue.
National Archaeological Museum, Sculpture Collection Inv. Nr. Γ 3477
Provenance: Found in the Kerameikos, Athens, in 1922, built into the Themistoklean wall.
Dimensions: Height: 28 cm., Length: 82 cm., Width: 60 cm.
Date: About 510-500 BC
Location: Sculpture Collection, Room 13
Rectangular block with a cavity on the top, in order to receive the plinth of the statue. Three of the sides are decorated with relief representations. On two of them there are depictions of four horse chariots and warriors (hoplites).
The front has a unique depiction of young athletes who hold sticks that are curved at one end, playing a game which reminds us of today' s hockey. Two youths in the center have a ball between them and each one is trying to bring the ball close to his side. The central scene is surrounded by two more couples of youths. At the left, one youth stands with his body depicted frontally and his head turned to the right, making a vivid gesture with his hands. The youth behind him is depicted in profile to the right, holding a stick in his right hand.  In the right corner,  two players are taking a brake holding their sticks, the first one is turning his back to the viewer, the one behind him is depicted in profile to the left. Scholars have suggested that the young athletes who are framing the central scene are not teammates; they are simply waiting for their turn to play, which means that this game was not a teamplay, like hockey, but an individual sport.
We do not know when this sport started or the rules of it, but we do know that the ancient Greeks loved ball games. Specifically, in relation to this game we see that the ancient writer Plutarch (Moralia, Lives of the Ten Orators. Isocrates, chapter 4) refers to a statue of Isocrates as a child playing ball with a stick curved at one end. There are also depictions of a similar game of the Middle Ages (12 cent. AD) in France, named "La soule à la crosse" («the hit with a stick»). This leads to the assumption that  the aim of the ancient game might have been to throw the ball as far as one could into the territory of his opponent.
Dr Wanda Papaefthymiou
Literature
G. P. Oikonomou, «Κερητίζοντες», ΑΔ 1920-1921, 56-59.
S. Casson, "The New Athenian Statue Bases" JHS 45, 1925, 164-179.
N.B. Crowther, Sport in Ancient Times (London 2007) 155-156.
H. A. Harris, Sport in Greece and Rom (Cornell University Press 1972) 101-110, Pl. 47.
B. Merdrignac, Le sport au Moyen-âge (Presses Universitaires de Rennes 2003).